This is the print version distributed to all students at Edison.  Our downloadable PDF is useful for printing extra copies. This issue contains the following articles: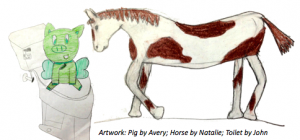 By Natalie H. and Avery M., 5th grade Did you hear about the duck who lives in Avery's bathtub? We didn't think so. His name is Linda, but we're...
Written & Illustrated by Grail W., Grade 3 Clone troopers are very powerful. They are used to destroy battle droids. The boss of the blue clones is Captain Rex....