Sign up for the First Publishing Class of 2013-14!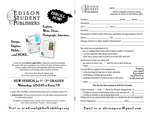 Sign up to help create the first edition of the Edison Light Bulb for 2013-2014!  The Light Bulb team of 2nd-5th graders creates both a print- and blog-based school publication. We'll work together to produce your choice of news, reviews, comics, fiction, poetry, interviews, photography, editorials, surveys, illustrations, advertising, jokes, puzzles, & more!   Share your best ideas & talents, and learn new ways to use cool tools of all kinds!
Who: Edison students in 2nd-5th grade, limited to 12 students per session.  The group is mentored by Kirsti Haugen and Ellen Wischnowski

When:
Wednesdays • 1:15-2:45 • January 22 – March 12 

Where:  at Edison; room to be announced
Cost: $90 (checks payable to "Kirsten Haugen") – a limited scholarship fund is available or you can pay in installments; please ask.
How: Fill out a form & submit online or return it to the office.  Forms are available 3 ways:

fill out the form below (preferred method; no need to print anything)
download a form here to print, fill out, and return to the office
get a form from the bulletin board to the right of the Edison office

To complete your registration, you must submit payment and/or confirm your scholarship request.
Make checks payable to "Kirsten Haugen"
Submit your payment to the Edison office in an envelope marked "Edison Student Publishers." If you use the online form below, be sure to include your child's name on the envelope or check.
Once I have received your payment or confirmed a payment and/or scholarship plan with you, you'll receive an email to confirm your child's spot in the class.
If the class fills up before your child's registration is complete, I will notify you and give you a full refund.
Questions?  Explore our blog or contact Kirsti Haugen at edisonpress@gmail.com.
Stay in touch!  Sign up for updates by email (see sidebar) or join us on Facebook!
[formidable id=9 title=true description=true]