Sign up for Winter 2013!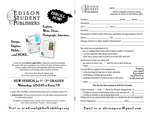 Sign up to help create the next edition of the Edison Light Bulb for 2012-2013!  The Light Bulb team of 2nd-5th graders creates both a print- and blog-based school publication. We'll work together to produce your choice of news, reviews, comics, fiction, poetry, interviews, photography, editorials, surveys, illustrations, advertising, jokes, puzzles, & more!   Share your best ideas & talents, and learn new ways to use cool tools of all kinds!
Who: Edison students in 2nd-5th grade, limited to 12 students per session.
When: Wednesdays,  1:15-2:45 for 8 weeks, from January 9 through February 27
Where:  Room 8 or Library, led by Kirsti Haugen and Ellen Wischnowski
How: Fill out a form & return it to the office with payment &/or scholarship request.  Forms will be available outside the Edison office or download a form here to print.
Cost:  $90 / 8 weeks – a limited scholarship fund is available; please ask.
Questions?  Explore our blog or contact Kirsti Haugen at edisonpress@gmail.com.
You can also sign up for updates by email (see sidebar) or join us on Facebook!