How to get on a flight simulator
by Alex K., 3rd grade
Here are some steps and pictures to get on a flight simulator in Google Earth.
Step one: open Google Earth
Step two: choose 
 from the menu at the top of the screen.
Step three: click on 
Step four: choose your plane and airport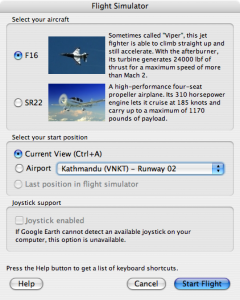 `
Step five: to take off, hold down the "fn" key while using the forward arrow key.
Step six: use your arrow keys to guide your plane.
Tips: 

Use these keys to help you control the simulator:

"H" = show or hide the green flying guides
"G" = make the landing gear go up or down
"Spacebar" = pause the flight
"ESC" = restart the flight
"C" = stop spinning if you're turning round and round

The green guides help you know when you're spinning