Celebrating our final Fall 2011 session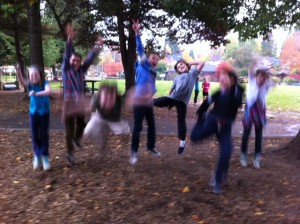 The Edison Light Bulb has its final meeting of the fall session tomorrow, Wednesday, Nov 30, 1:15-2:45 pm.  We plan to celebrate all our eight students have accomplished in eight short sessions:
Establishing a new blog at edisonlightbulb.edublogs.org
Creating and distributing business cards to promote the blog
Writing 29 unique stories, news items, reviews, puzzles and more
Receiving nearly 500 unique visitors from half our states and nearly 20 countries on five continents
Exchanging over 100 comments about our work
Creating an 8-page print edition for the Edison community
…oh, and I lost track of the number of push-ups and field laps to burn off the extra energy – where does it come from?
A special thanks to Ellen W. for helping out every week, to those who've provided snacks, and to Joe, Rose, & Stacy for their support and making Edison a welcoming place for programs like ours.
And to our first foreign correspondent Tor – we're sorry you'll miss the party, but perhaps you can get your parents to take you out for a croissant at a lovely streetside bakery in Bordeaux! (And maybe write a pastry review!)
Thanks again for the privilege of working with these kids.
~ Kirsten